This might be my favorite everyday item in my closet. The black baby soft turtleneck from American Apparel. It can be dressed up or down, it's so easy (not to mention comfortable) and always chic. And at $28, what it will do for your self esteem is worth every penny! If you only buy one of my suggestions, this should be it.

Rachel Bilson pairs her turtleneck with a pair of grey skinny jeans, and Marc Jacobs red patent flats.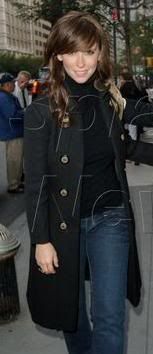 Jennifer Love Hewitt goes for a more classic look pairing hers with a long black overcoat.
Speaking of classic! Style icon Audrey Hepburn practically invented the turtleneck trend in her film "Funny Face." Then did it all over again in last year's Gap ads!